Send Certificates
Automatically send certificates to your Google Forms participants

---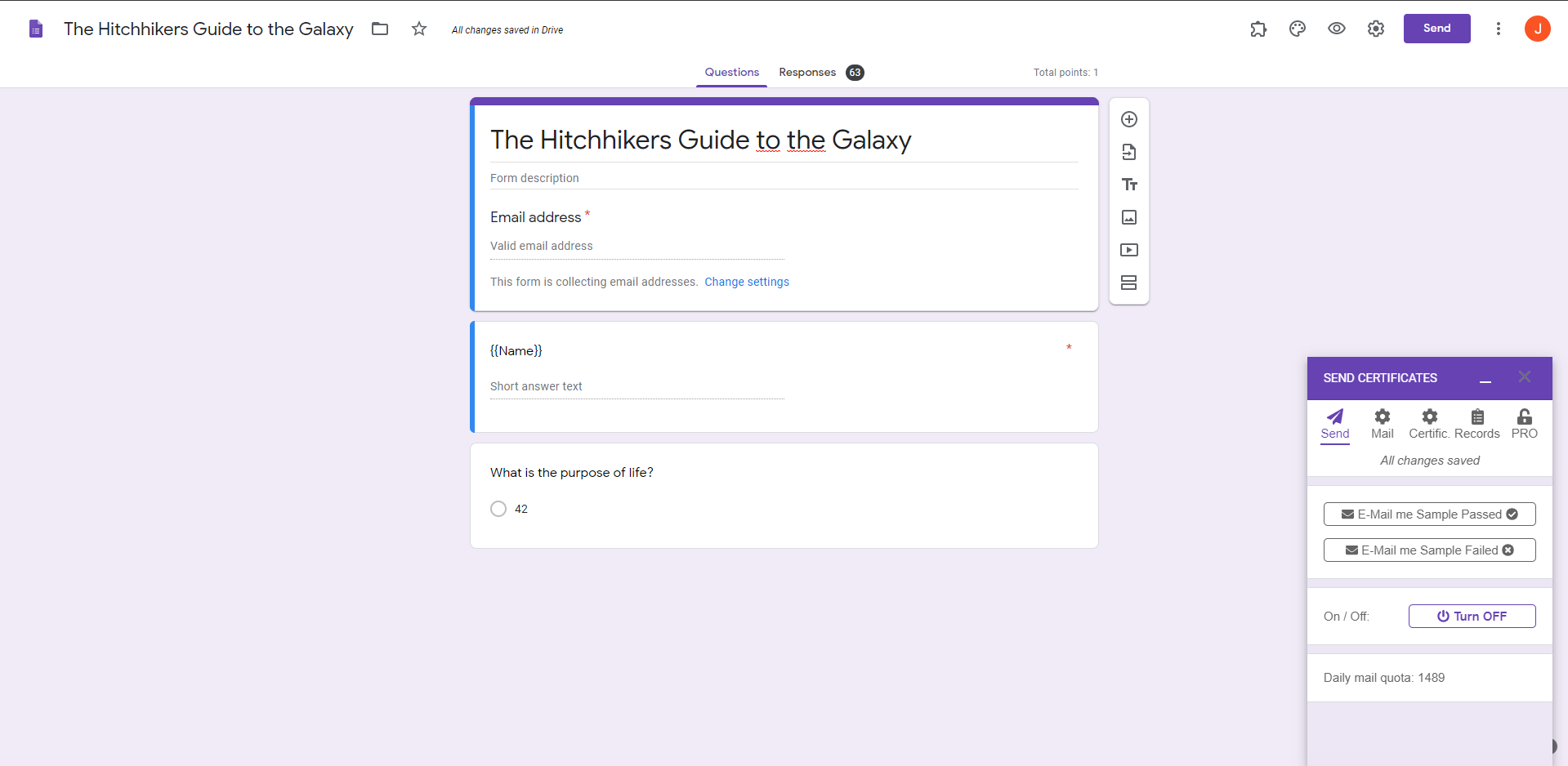 Top Features of Send Certificates
---
What makes Send Certificates an indispensible companion for Google Forms
---
Send sample certificates
Send yourself sample certificates until all settings are made as wanted
---
Merge tags
Use placeholders to dynamically insert e.g. name, department etc. from your exam takers into certificates and mail content
---
Certificate templates
6 certifcate templates are provided by default. In addition custom certificate templates can be used to apply the own CI
---
Response records
All responses including information like: reached points, certificate ID etc. are stored within a Google Spreadsheet
---
Resend individual certificates
One exam taker made a typo? Informations from your exam takers e.g. name, department etc. can be edited and resent
---
Full customization
In addition: mail content, file format of the certificates (PDF or image), share method (e-mail or link), timezone etc. can be changed
Feature Comparison
---
Choose your perfect plan.
Free
1 Year
Send sample certificates
Customize mail content
Define mail CC and BCC
Use merge tags within mail content
Use merge tags within certificates
Define passing score
Send certificates as PDF
Send certificates as image
Share certificate via mail
Choose between 6 certificate templates
Choose timezone for certificate date
Store responses within Google Spreadsheets
Save sent certificates in Google Drive
Define prefix for certificate ID
Define custom merge tags (e.g. department)
Use custom certificate templates
Share certificate via Google Drive link
Remove "Made for free, By AddonForge" label
Resend individual certificates (in case of typos)
Price

Free

$19

Buy Plan
FAQ
---
Got a question? We are here to answer.